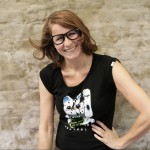 Anna Justice was a German film director and screenwriter. She graduated from Berlin film and television academy (dffb). Her films recieved numerous awards worldwide. Among her films are MAX MINSKY AND ME which was nominated for Best Children's Film at the German national film awards (Lola), and REMEMBRANCE (DIE VERLORENE ZEIT).
Other works include the tv mini series PINOCCHIO, combining life action with 3D animation, and the tv drama ICH LIEBE DAS LEBEN, nominated for a Grimme award. Her recent works are the German-French political thriller KOLLWEIN'S DAY OF TRUTH (TAG DER WAHRHEIT) and HARRY'S ISLAND, a comedy filmed on location in Canada.
Since 2015 Anna has also written and directed stage productions such as ÉDITH PIAF – PETITE GRANDE DAME and NIGHT CIRCUS. She last directed the film BESIDE THE TRACK (NEBEN DER SPUR IST AUCH EIN WEG) in 2020.
She passed away on 18 April 2021 after a serious illness.
Awards
TAG DER WAHRHEIT
⋅ Audience Award, CIFF Ottawa, Canada 2017
⋅ Best Feature Film, CIFF Ottawa, Canada 2016
⋅ Best Thriller, CIFF Ottawa, Canada 2016
⋅ Best Director, CIFF Ottawa, Canada 2016
⋅ Best Foreign Film, Florida Movie Festival, USA 2016
⋅ Award of Excellence for Best Feature Film, Accolade Global Film Competition, USA 2015
REMEMBRANCE | DIE VERLORENE ZEIT
⋅ Best Director Award, International Film Festival of Tamilnadu, India 2012
⋅ Audience Award Zagreb Jewish Film Festival, Croatia 2012
⋅ Audience Award Los Angeles Jewish Film Festival, USA 2012
⋅ Shoresh Charitable Trust Audience Award UK Jewish Film Festival London, UK 2011
⋅ Audience Award Hong Kong Jewish Film Festival Hong Kong, China 2011
⋅ Audience Award Berlin & Beyond Film Festival San Francisco, USA 2011
⋅ Audience Award Filmkunstfest Schwerin, Germany 2011
MAX MINSKY AND ME
⋅ Best Children's Film, nominated for Lola National Film Award, Germany 2008
⋅ Best Children's Film, Tallinn Black Nights Film Festival PÖFF, Estonia 2008
⋅ Best Feature Film, International Children's Film Festival Tel Aviv, Israel 2008
⋅ Best Feature Film, Kindermedienpreis Weißer Elephant Munich, Germany 2008
⋅ Best Feature Film, Milos Macourek Award, Zlin, Czech Republic 2008
⋅ Best Feature Film, Youth Jury Award Winnipeg, Canada 2008
⋅ Best Feature Film, Audience Award Winnipeg, Canada 2008
⋅ Best Feature Film, Grand Prix of the Children's Jury Montreal, Canada 2008
⋅ Best Feature Film, Price Of The Children's Jury Antwerp, Belgium 2008
⋅ Best Feature Film, Goldene Klappe Augsburg, Germany 2008
⋅ Best Feature Film, Sehpferdchen Children's Jury Award Hannover, Germany 2008
⋅ Best Feature Film, Audience Award Children's Film Festival Hof, Germany 2008
⋅ Best Children's Film, Tallinn Black Nights Film Festival PÖFF, Estonia 2008
⋅ Best Feature Film, Cinekid Lion Jury Award Amsterdam, Netherlands 2007
⋅ Best Children's Film, Lion Hachenburger Filmfest, Germany 2007
⋅ Best Youth's Film, Teenarena Audience Award Sarajevo, Bosnia and H. 2007
ICH LIEBE DAS LEBEN
⋅ Nomination Adolf-Grimme-Preis, Germany 2006
TUT MIR LEID WEGEN GESTERN
⋅ Outstanding Achievement of a Young Director, Golden Lion, Germany 1998